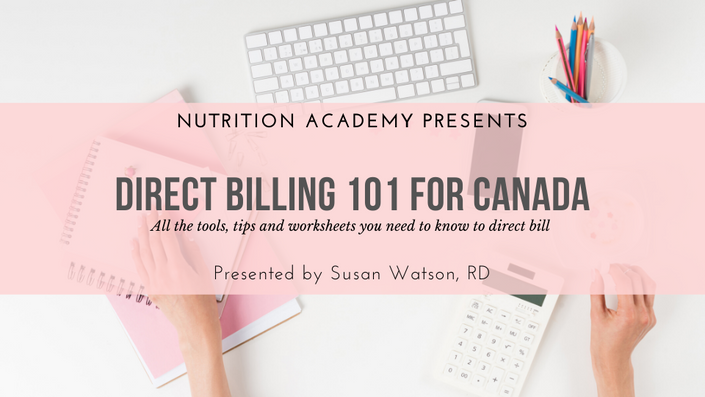 Direct Billing 101
Grow Your Nutrition Biz! -A step-by-step guide to implementing direct billing in your business
Increase access to dietitian services & keep your clients coming back with direct billing!

Do your clients ask you if you're able to direct bill their medical insurance company to pay for their appointment?
Do you think you might be losing business from clients who can't afford to pay upfront for your services?
It IS a difficult decision to make, but if you think that accepting direct billing might be a good fit for your biz, then learning the essentials is a must!
Sign up now and get instant access. Learn how to direct bill right now!
Learn how to direct bill for your clients and see how I tripled my business by offering this service!
Direct Billing 101 will help you transform your practice by opening up an additional payment gateway for your clients to pay for your services!
Most workplace group insurance plans cover nutrition counselling when performed by a Registered Dietitian, and many plans are starting to allow what is called "Assignment of Benefits or Direct Billing", which means the clients insurance company will pay the service provider instead of the client.
Not all companies allow this, and it is different across Canada and internationally, however for those companies that do allow nutrition counselling as an assignable benefit, it is worth knowing how to process these claims.
I know, you are saying "why, when I already have clients paying upfront"
As we all know, when you begin your nutrition counselling practice you're faced with a number of business decisions. One of the hardest decisions will be related to billing and setting fees.
When you are able to direct bill for your clients, you are taking the financial burden off of them (or reducing it), so they can spend more time focusing on why they came to you in the first place, and that is to work on their nutrition.
Four years ago, I transformed the way I ran my business by deciding to offer direct billing services to my clients. At the time, I was primarily a stay-at-home mom seeing a few clients a couple nights a week, and had plenty of time to take on a bit of extra paperwork. I didn't really know what I was doing, but had the time to learn.
I researched, made many costly mistakes, and used whomever I could find to teach me the process (mostly the admin staff at the clinics I worked out of).
I knew that there was a large demand for direct billing from my clients, but I had NO idea that offering this service would actually triple my business. I thought I was just giving the client what they wanted. Turned out I was giving them easier access to service - reducing perceived barriers to nutrition counselling.
The number of clients that I had coming through my door got to the point where I've had to hired a team of dietitians to meet the client demand.
You can do the same thing as me, and learn on your own... it is totally possible, but there is a lot to know, and a lot of costly mistakes to be made (I know, because I made them).
I have creating templates, scripts and systems that streamline the process so that I can see more clients and spend less time doing paper work. Realistically, I've got it down to a few hours 2x a month.
You will learn in this course:
-How to set up your business to direct bill and accept assignment of benefits - everything from marketing to structuring your service packages (yes! it is possible to direct bill if you offer packages).
-Learn about how I marketed my services to get more clients in the door, and how to utilize the full amount of their insurance coverage for the year.
-Step-by-step the processes you need to take to accept insurance for payment, and how to avoid making costly mistakes.
-Learn all the terminology and how everything works, like co-ordination of benefits, primary payer/ secondary payer, how reasonable and customary charges work ... the works.
-How to confirm clients benefits to ensure you don't lose out on money, and tips on how to avoid being on the phone all day :-)

What you will get in this course:

-Templates you can use to work smarter not harder
-Sample script of what I use when I call to confirm insurance coverage
-The exact details of what you need to acquire from a client before direct billing
-Systems, tools and client worksheets that I use to make sure clients keep coming back for services, even when they are done meeting with me for their primary nutrition concern.
This course will save you time and money:
- I talk about costly business mistakes I experienced - and show you how to prevent them.
-Learn how to put systems and policies in place to ensure YOU'RE not out $$$
-Expert methods to ensure YOU get paid faster by insurance companies
-Get access to all my systems, tools, and worksheets that I use to reduce the headaches of direct billing and streamline the process
If using employee medical insurance and direct billing clients seems confusing and a lot of extra work, you are not the only one that feels this way.
It is extra work, but it is absolutely worth the hassle if you want your business to grow!
Direct billing is more work than being paid on the spot, but I see a huge problem arising if we don't start to offer this service.
Many other allied health care providers do direct bill, and they have won the attention of medical insurance companies, which provide them with open portals and communication streams to pay the service provider directly.
We are never going to get the insurance companies to recognize us in the same way dentistry, massage, and physiotherapy are recognized if we don't start to try and direct bill.
The more dietitians that offer this service, the easier it will be to work with the insurance providers in the future. Plus, by offering direct billing you are automatically increasing access to dietitian services, reducing the financial burden on the client and letting them focus on what they came to see you for ...and that is improving their nutrition.
If this sounds like something you are ready to implement in your practice, then this is the course for you. It is a step-by-step guide on how to implement direct billing in your practice and how to avoid making costly mistakes along the way!
Click below to register!
"I help dietitians understand how to utilize medical insurance to increase access to dietitian services and create growth opportunities in their private practice" - Susan Watson, RD
Your Instructor
Susan Watson is a tech savvy, trend seeking, social media addicted, entrepreneurial dietitian. She owns and manages a nutrition counselling practice in Winnipeg, A Little Nutrition, and trippled her business when she started offering direct billing in her practice. She spoke on her experiences with direct billing at the 2016 DC National Conference in Winnipeg and wants to help increase access to dietitians through leveraging clients medical insurance. You can connect with Susan on Instagram and Twitter @LittleNutrition.
Course Curriculum
Welcome To DB 101!
Available in days
days after you enroll
Frequently Asked Questions
When does the course start and finish?
The course starts August 15, 2016, and never ends! It is a completely self-paced online course - you decide when you start and when you finish.
How long do I have access to the course?
How does lifetime access sound? After enrolling, you have unlimited access to this course for as long as you like - across any and all devices you own. In addition, you will have live time access to any upgrades and additions we add to the course.
What if I am unhappy with the course?
We would never want you to be unhappy! If you are unsatisfied with your purchase, contact us in the first 14 days and we will give you a full refund.
Is the course content applicable to all nutrition professionals world-wide?
The course is based on the personal experiences of the instructor with direct billing in Canada. Many of the terms, worksheets and systems she has set up will be applicable internationally, but will vary from province to province and internationally.
Does this course provide a certificate or continuing education credits?
All paid nutrition academy courses provide a certificate on completion, as well as CEC's or continuing education equivalent credits. 1 credit will be issued per course hour - as per the most common CE credit standards.