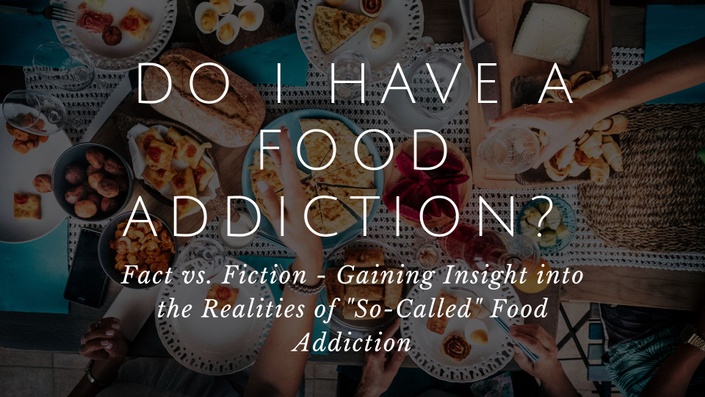 Do I Have a Food Addiction?
Fact vs. Fiction - Gaining Insight into the Realities of "So-Called" Food Addiction
Do you feel like you are addicted to food, but don't know why?
You are not alone!
Of course you may feel addicted to food! Some food is designed that way!
Certain combinations of food is manufactured and processed to be highly palatable, or "addictive feeling".
Can't put that bag of "X food item" down?
It is no wonder since the food industry has cleverly learned how to make some combinations of nutrients like sugar, fat and salt, more desirable or "addictive tasting" than other nutrients.
Some combinations take advantage of the reward system of the brain which, when triggered, stimulates us to keep eating – and not necessarily prompting us to stop.
Just because you can't put that bag of "X food item" down, it doesn't necessarily mean that you are a food addict or addicted to food.
Some experts even question the validity of calling any food your "drug of choice."

In this workshop, we dive into the true definition of addiction and see how this compares to food addiction.
There are so many reasons why we may feel addicted to food, but you don't have to continue to struggle.
You don't have to feel powerless over food anymore!
Watch our workshop and learn to say good-bye to obsessively thinking about food
ALL. DAY. LONG
Get the facts from professionals
In this FREE 1.5-hour webinar Susan Watson, Register Dietitian and Jackie Persona, Psychotherapist discuss the facts and fiction surrounding food addictions.

In this Webinar You Will Learn:
Why do you feel like you are addicted to food?
Is food addiction a real thing?
What might cause you to feel like you have a food addiction
What are the signs and risk factors of having a food addiction?
What to do if you think you have a food addiction?
Meet the Instructors

Susan is a Registered Dietitian, Certified Intuitive Eating Counsellor and the owner of A Little Nutrition and co-founder of Nutrition Academy.


Frequently Asked Questions
How long do I have access to the webinar?
How does lifetime access sound? After enrolling, you have unlimited access to this course for as long as you like - across any and all devices you own.
How long is the webinar?
The video webinar is 1.5 hours long. Watch at your own pace.