Diagnosed with Eosinophillic Esophagitis?
One of the primary strategies for management is the 6 (or 8 food) elimination diet. That means:
No wheat

No dairy

No soy

No eggs

No fish & shellfish

No peanuts & tree nuts
So what are you left to eat?
It is extremely challenging, often leaving patients overwhelmed, and confused about what they can and can't eat.
Add 'Dr. Google' on top of that (because who wouldn't google their new diagnosis?) and it can be THAT much more confusing.
At Ignite, we follow an evidence based approach to help you manage your EoE and identify your trigger foods.
To access nutrition counselling visit www.ignitenutrition.ca - or to just get support with a 4 week menu plan - sign up below!


---
This meal plan is designed to offer a variety of nutritious recipes that provide BALANCE, VARIETY, and ADEQUATE NUTRITION during the 6 or 8 food elimination diet.
At Ignite, we recommend those with Eosinophillic Esophagitis work with a trained dietitian to help tailor advice to them.
Visit www.ignitenutrition.ca to meet our team and work on your EoE management.
---
We have a vault of four week-long balanced EoE menu plan designed by Registered Dietitians, that are delicious, simple, and don't take a lot of work!.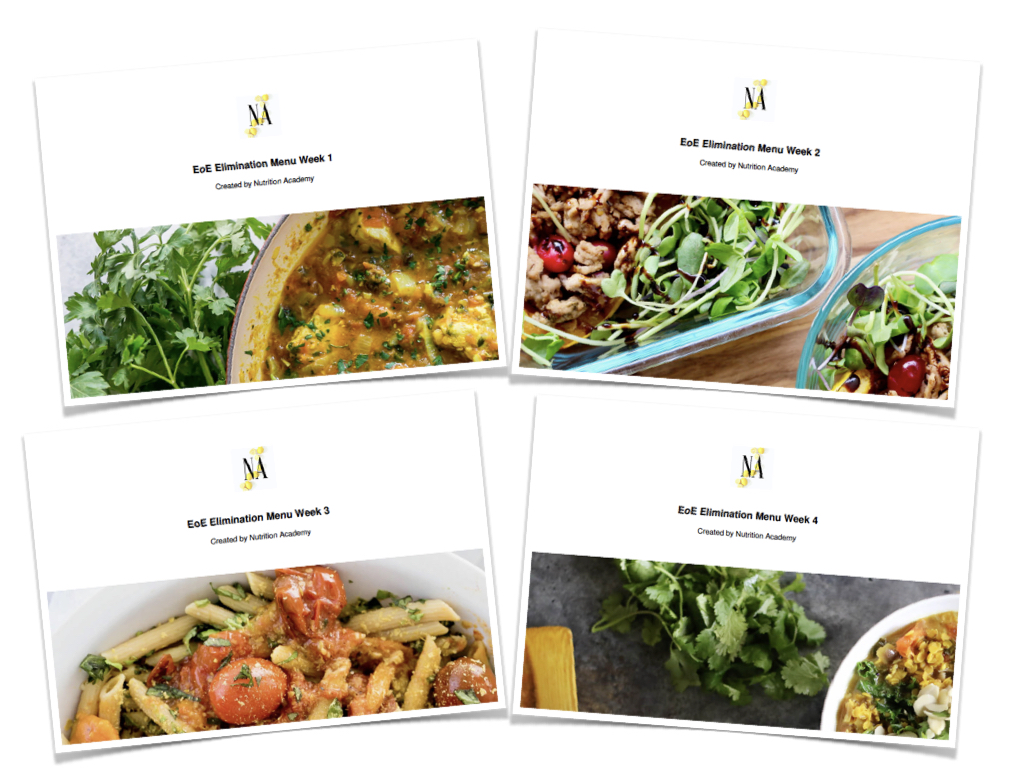 Our four weekly meal plans:
- are designed to provide balance and variety
- take minimal amount of time in the kitchen - making use of leftovers and simple recipes
- eliminate wheat, dairy, eggs, soy, tree nuts & peanuts, fish & shellfish - without being restrictive
We have designed the plans to either cook ahead or use leftovers to save time.
All plans come with a grocery list, (which is awesome for click and collect!)
Our meal plans are designed for one, but are easily scaled to suit a family.