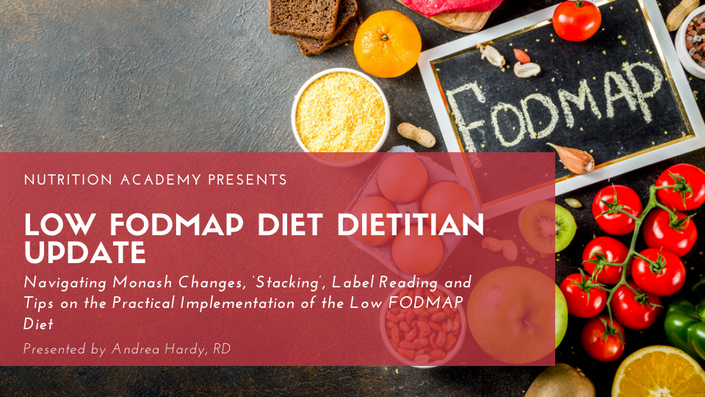 Low FODMAP Diet Dietitian Update
Navigating Monash Changes, 'Stacking', Label Reading and Tips on the Practical Implementation of the Low FODMAP Diet
Do you see patients with

irritable bowel syndrome

in your practice?

Are you confident in implementing the low FODMAP diet with your patients?
Want to stay up-to-date on the low FODMAP research and recent changes?

If so, this webinar is for you!

On June 7th at 12 pm EST, Andrea Hardy, RD will be hosting a free 1 hour educational webinar on practical implementation of the low FODMAP diet, updating you on the latest FODMAP research, and discussing recent Monash changes and how to consider them in your patient care.
Here are the highlights of what we cover:
What is IBS? (A brief overview)

What is the low FODMAP diet?

What is the evidence to support the low FODMAP diet?

Who is the low FODMAP diet appropriate for?

What is the modified low FODMAP diet (FODMAP gentle diet) - and what is the evidence?

What are tools to support dietitians in the low FODMAP diet implementation?

Practical Implementation of the low FODMAP diet - what dietitians need to know

What are 'cut offs' and how were they developed?

What is 'stacking'? Does it matter?

How to manage and implement Monash changes - what are some new foods tested you need to be aware of?

How to assess recipes and labels for FODMAPs

Practical tips for counseling patients on the low FODMAP diet

Monash certification - how it helps patients choose confidently
***We are also going to give you practical counselling strategies (like label reading, product lists and tips for eating out) to support patients on the Low FODMAP diet!***
Feel confident when implementing the Low FODMAP diet with patients!
*This webinar is made possible by the sponsorship of Schär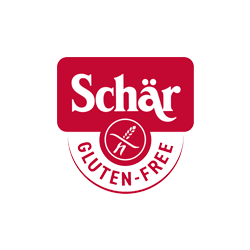 Don't miss out on this FREE
CEC learning event June 7th at 12 pm EST! (replay available for 2 weeks afterward - enrol to access all webinar material and replay)
Your Instructor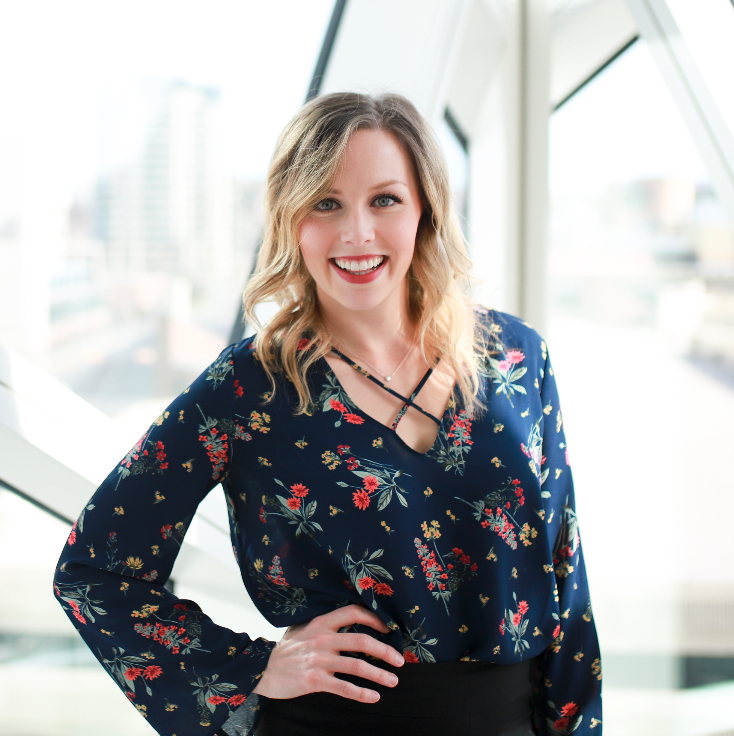 Andrea Hardy is a registered dietitian from Calgary, Canada where she runs a multi-disciplinary digestive health practice called Ignite Nutrition. She specializes in gut health & gastrointestinal diseases, and is recognized in the media as Canada's Gut Health Expert. She is passionate about translating science into 'easy to digest' information to support a healthy gut. She has spoken on the TEDx stage, as well as internationally about digestive health. Follow her on Instagram at @andreahardyrd or tune into her gut health podcast 'Let's Gut Real' which is all about making nutrition science easy to digest!
Frequently Asked Questions
When is this available to watch until?
Live event is June 7th at 12 pm EST; replay will be available until June 21st 2022.
Will I receive a CEC certificate for attending?
Yes - there will be a continuing education certificate given for the 1-hour webinar