So, you've been diagnosed with IBS?
Maybe you've been told to eat more fibre and drink more water. Or maybe, you've been told to 'just watch FODMAP's' (whatever THAT means.)
I'm here to tell you - IBS CAN be managed, IF you have the RIGHT tools and support.
I'm Andrea Hardy, registered dietitian, owner of Ignite Nutrition, and guess what. I have IBS myself.
And let me tell you. I was frustrated with the diagnosis, embarrassed because of the stigma, and felt a complete lack of direction as to how I was going to feel better.
You DON'T have to 'Learn to Live With It' - the message I received with my diagnosis.
IBS is a REAL diagnosis, with REAL options for management. Let us show you how.
---
Get a Good Gut was created to help those with IBS take a holistic approach to managing their condition.

Our private practice, Ignite Nutrition gets calls from AROUND THE WORLD. People looking for support from experts who can help them.
Not everyone can access one-on-one counselling - which is why we created Get a Good Gut!
Get a Good Gut is an 8 week self-guided workshop that will show you how you can independently implement the low FODMAP diet AND work on the 4 Pillars of Gut Health in IBS management.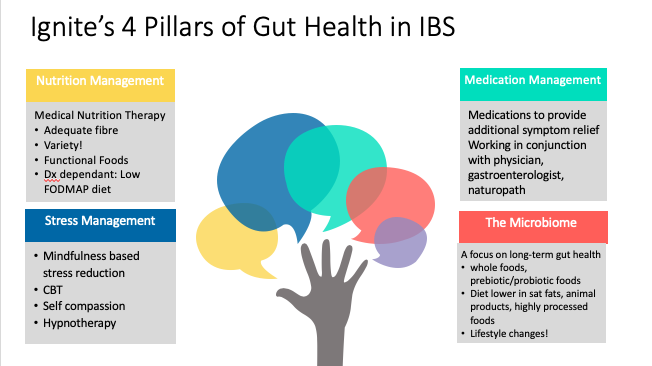 We created the 4 Pillars of gut health BECAUSE we know, IBS is MORE than just nutrition management - it takes a holistic, entire lifestyle approach to fully manage.
In the course we will cover:
1) The 3 phases of the low FODMAP diet WITH menus, resources, and tools to make it easy breezy
2) Stress management - how your brain and your gut are working against each other, and how you can get them back in harmony!
3) Medication management - we give you an up-to-date explanation of both non-pharmacological and pharmacological medications used to manage IBS, so that when you talk with your family doctor, you're equipped with the right kind of knowledge!
4) The gut microbiome - This section focuses on long term gut health AND the gut microbiota - those bugs that work to keep us healthy and happy. We cover what the long term plan should like to take care of the gut!