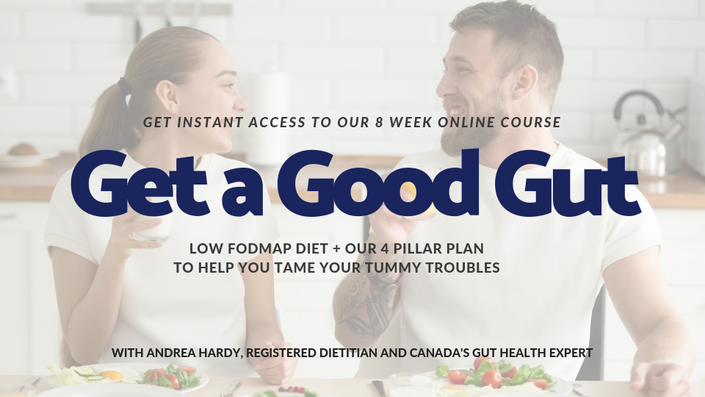 Get A Good Gut
Learn the Low FODMAP Diet & Use Ignite's 4 Pillar Plan to Get a Good Gut!
So, you've been diagnosed with IBS?
Maybe you've been told to eat more fibre and drink more water. Or maybe, you've been told to 'just watch FODMAP's' (whatever THAT means.)
I'm here to tell you - IBS CAN be managed, IF you have the RIGHT tools and support.
I'm Andrea Hardy, registered dietitian, owner of Ignite Nutrition, and guess what. I have IBS myself.
And let me tell you. I was frustrated with the diagnosis, embarrassed because of the stigma, and felt a complete lack of direction as to how I was going to feel better.
You DON'T have to 'Learn to Live With It' - the message I received with my diagnosis.
IBS is a REAL diagnosis, with REAL options for management. Let us show you how.
---
Get a Good Gut was created to help those with IBS take a holistic approach to managing their condition.

Our private practice, Ignite Nutrition gets calls from AROUND THE WORLD. People looking for support from experts who can help them.
Not everyone can access one-on-one counselling - which is why we created Get a Good Gut!
Get a Good Gut is an 8 week self-guided workshop that will show you how you can independently implement the low FODMAP diet AND work on the 4 Pillars of Gut Health in IBS management.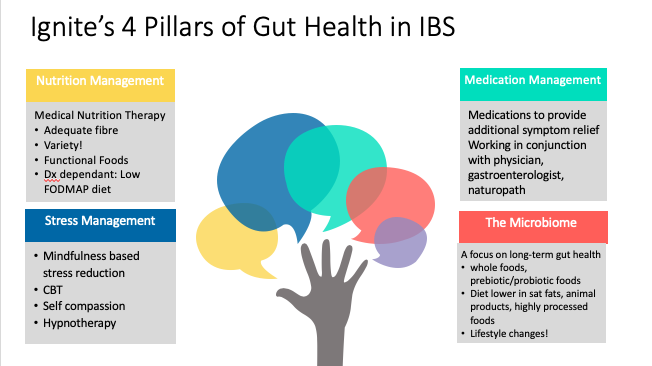 We created the 4 Pillars of gut health BECAUSE we know, IBS is MORE than just nutrition management - it takes a holistic, entire lifestyle approach to fully manage.
In the course we will cover:
1) The 3 phases of the low FODMAP diet WITH menus, resources, and tools to make it easy breezy
2) Stress management - how your brain and your gut are working against each other, and how you can get them back in harmony!
3) Medication management - we give you an up-to-date explanation of both non-pharmacological and pharmacological medications used to manage IBS, so that when you talk with your family doctor, you're equipped with the right kind of knowledge!
4) The gut microbiome - This section focuses on long term gut health AND the gut microbiota - those bugs that work to keep us healthy and happy. We cover what the long term plan should like to take care of the gut!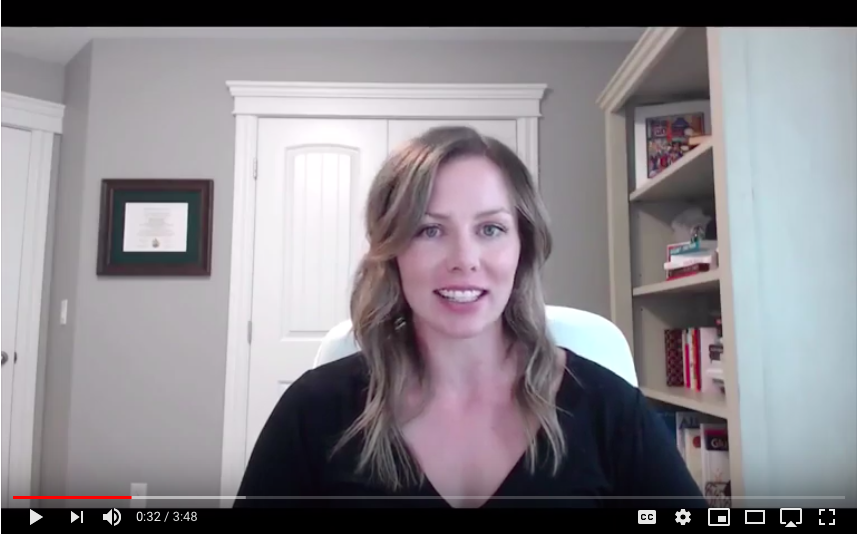 Your Instructor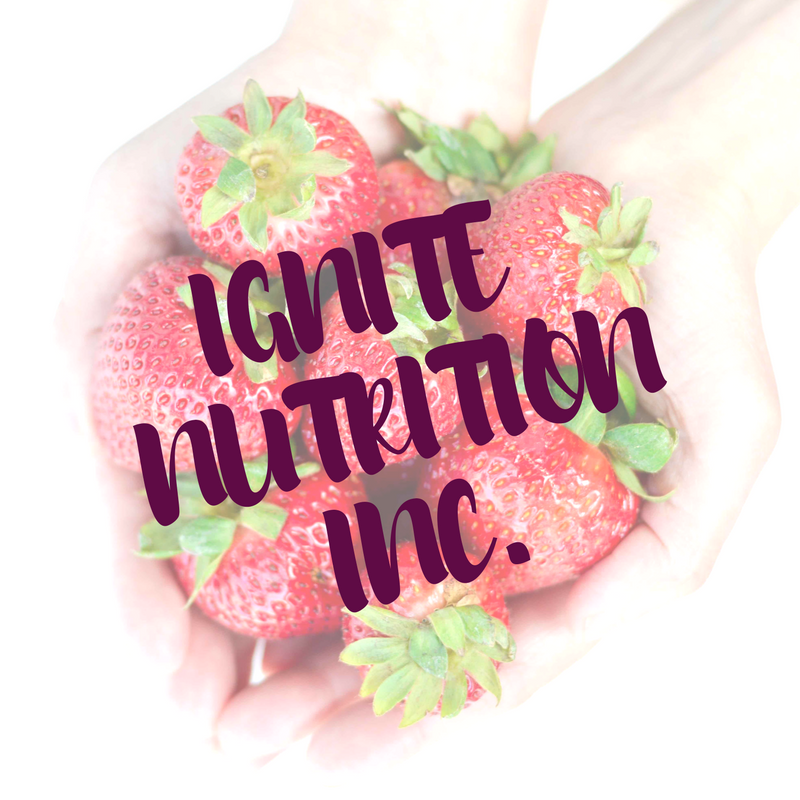 Our dietitians are specialized in gastrointestinal health and IBS management.
We bring you some great content to get started on the low FODMAP diet.
We strongly encourage you working with one of our amazing dietitians so your care can be monitored, individualized, and safely implemented.
Many health care plans cover the cost of registered dietitian nutritionists - check with your extended benefits today!
Course Curriculum
Housekeeping
Available in days
days after you enroll
Welcome
Available in days
days after you enroll
Week 1-4 - Symptom Control
Available in days
days after you enroll
Frequently Asked Questions
When does the course start and finish?
The course starts now and never ends! It is a completely self-paced online course - you decide when you start and when you finish - however it is designed to be completed in approximately 8 weeks.
How long do I have access to the course?
How does lifetime access sound? Each enrolment covers the licence for ONE persons course entry. After enrolling, you have unlimited access to this course for as long as you like.
How will this course help me?
This course is for informational and educational purposes only and does not replace medical or mental health advice. It is STRONGLY encouraged you work with a trained health professional to implement the IBS strategies though it is understandable that this is not accessible for everyone, which is why we've put as much supportive information in as possible. Keep in mind, everyone's IBS is different, which is why an individualized approach is likely to produce more beneficial results. To work with one of our trained IBS dietitians, visit www.ignitenutrition.ca
What if I'm not happy with the course?
We would never want you to be unhappy! Get a Good Gut™ has a 14 day money back guarantee, If you get into the course and realize that our strategies are not helping you digestive issues, let us know in the first 2 weeks and we will give you a full refund. All that we ask is that you show me that you have completed all the modules and assignments, and demonstrate that you have tried the different methods recommended in the course. This money-back guarantee is in place because my course does get results, but you have to put in the work to succeed. I know if you take the time to implement these strategies you will have the right tools in your toolkit to Get a Good Gut!
Is this program medically supervised?
This program is not medically supervised by our dietitians. HOWEVER. We have designed it so that your family doctor is involved and will medically supervise you through implementation of the program. The course itself is self guided, but approval from your family doctor is advised prior to starting the course. We give you a 'Doctors Checklist' to take with you to your doctor to discuss the self-guided program prior to starting the course.
The low FODMAP diet helps up to 75% of patients with IBS symptoms.
What makes our methods different, is that it combines the current research around other modalities of treatment for IBS.
With this approach we see better outcomes - because clinical practice isn't a research project - we can work on more than one thing at a time!
---
Our Goal for Get a Good Gut
Our goal for our patients is to feel 70-80% better, 70-80% of the time by the end of the 8 weeks. As you continue to learn about what affects YOUR IBS, our hope is that you continue to feel even better!
For those of you who don't hit those targets, we give YOU the tools to take charge of your care and discuss with your doctor alternative management strategies outside of nutrition and lifestyle, and differential diagnoses.
What's included:
A Doctors checklist - to ensure starting on the low FODMAP diet is safe for you

A specialized symptom tracker - to measure your success

Self-reflection exercises - because story telling is CORE in the healing journey


4 weeks of low FODMAP menus

, recipes, grocery lists, PLUS a quick start menu, and help if you decide to plan your menu yourself!

High and low FODMAP lists, including products, condiments, and navigating label reading

Guidance on working on improving the

gut brain connection



A deep understanding of the appropriate role of medication in IBS management, so you can advocate for your care in doctors appointments


Specific reintroduction instructions

to help you understand how FODMAP's impact your symptoms

A review as well as assignments on the role sleep and exercise play in IBS management

Step by step information on

FODMAP stacking and long term gut health

with FODMAP's

How to plan for flare ups, triggers that aren't FODMAP's, and the LONG TERM plan as you move BEYOND the low FODMAP diet!
Are you READY to take charge of your IBS symptoms and Get a Good Gut? Join the course now!