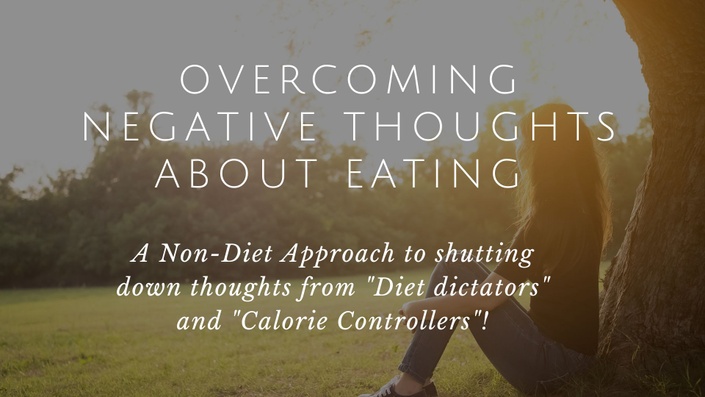 Overcoming Negative Thoughts About Eating
A Non-Diet Approach to shutting down thoughts from "Diet dictators" and "Calorie Controllers" and create a positive relationship with food
Do you feel guilty about your food choices?
Have you ever eaten a food item you like only to be riddled with guilt after?
Are you being tormented and bullied by the "food police voice"?
"The Food Police voice is the set of unreasonable rules that dieting has created. The police station is housed deep in your psyche and its loudspeaker shouts negative barbs, hopeless phrases, and guilt-provoking indictments. Shutting down and chasing the food police away is a critical step in improving your relationship with food and returning to eating intuitively." ~Evelyn Tribole and Elyse Resch
This workshop is for you if you want to get rid of your diet rules and learn to trust your innate body wisdom.
You should take this workshop if you have a long list of food rules that make figuring out what to eat exhausting and complicated. For example:
Carbs are bad for you

I can't eat fruit, it has too much sugar

Don't eat anything after a certain time of day

Snacks are bad for you

Can't eat past a certain number of calories or points for the day

Must restrict or burn off any treats consumed
You don't need to live this way, and yes, you can still be healthy!
In this workshop you will learn how to:
"Shout a loud "NO" to thoughts in your head that declare you're "good" for eating minimal calories or "bad" because you ate a piece of chocolate cake.
Topics covered:
Where do the negative and guilty thoughts come from?

The different types of problematic voices that you may encounter

How to challenge the negative voices

Learn how to reframe your negative food thoughts

Determine your own food rules

Determine how your past learned behaviours around food are impacting you today
Bonus content: 3 reflection activities for you to work though to master this intuitive eating concept!
Learn how to take charge and re-learn how to challenge these thoughts so you can flourish in your relationship with food.
Imagine still being able to work on your health and eat in a way that fuels your body well without these damaging thoughts:
"I was so bad, I ate dessert."
"Do you really think you should be eating that brownie?"
"Are you actually going to eat all that pasta, I thought you were trying to be good this week?"
"You aren't going to eat that cookie, are you? You've eaten so much junk food lately."
"Bread is bad for you."
"Bananas will make me gain weight"
If you are ready to deal with this internal battle and renew your mind, then this is the workshop for you!
Susan will help you evaluate your beliefs around food and diet and show you how they can have a big impact on your health and influence your food choices.

Sign up below to take this 1-hr workshop!
Course Curriculum
Workshop video and reflection worksheets
Available in days
days after you enroll
Next Steps To Take With Your Relationship With Food
Available in days
days after you enroll
Meet your instructor
Susan Watson, RD
Certified Intuitive Eating Counsellor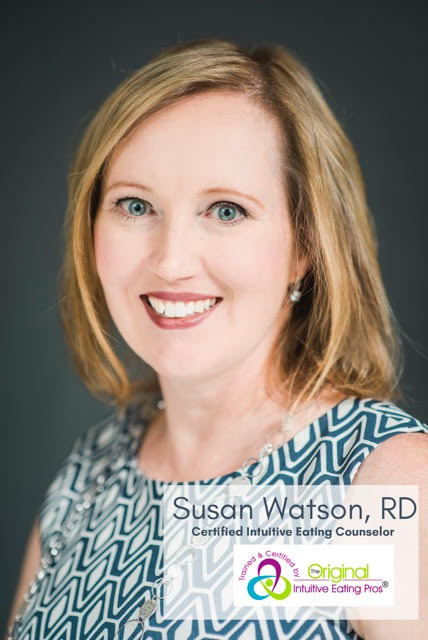 *Note: Susan practices using a non-diet / Health At Every Size informed approach.
Frequently Asked Questions
How long do I have access to the course?
How does lifetime access sound? After enrolling, you have unlimited access to this course for as long as you like - across any and all devices you own.
WHAT IS A CERTIFIED INTUITIVE EATING COUNSELOR?
A Certified Intuitive Eating Counselor is a health professional who helps people end problematic eating patterns, make peace with food and guide clients into becoming the expert of their own body.
WHAT IS INTUITIVE EATING?
Intuitive Eating is a flexible approach to eating that revolves around tuning into your inner biological cues – like hunger and fullness – and experiencing true pleasure from eating. It teaches you how to improve your relationship with food and your body, and unlearn the food rules that you've picked up over time.
HOW DO I BOOK AN APPOINTMENT WITH SUSAN?
To book with Susan -->
How long is the workshop?
The video workshop is 1-hr long. In addition, there are reflection activities to work through that you can do at your own pace.